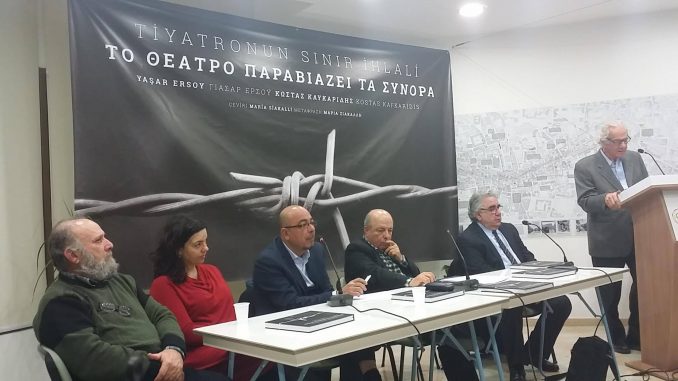 The bilingual book "Border Breach of the Theatre" launched on 30th of January 2017. The event which took place in Home for Cooperation, welcomed many guests both from the north and south of the island, including Mayors of Nicosia –Mehmet Harmanci and Constantinos Yiorkadjis-  many artists and writers, as well as activists.Theatre always played an important role in the history of countries, but what about in a country,which was divided years ago by external powers? Would art also be divided? Or would it have resisted?
"Border Breach of the Theatre" is a weapon of resistance.It is written by Yasar Ersoy of Nicosia Municipal Theatre in the north and Kostas Kafkaridis of Satiriko Theatre in the south, both valuable theatre artists who has been struggling for the development of Cypriot theatre over many years. Translation is done by Maria Siakalli and the designer of the book is Umut Ersoy who is another valuable theatre artist from younger generation. The book is published by Khora Publications, thatadded a different dimension to the publishing field in the north with fifty four books introducedonly in six years.
This book is a longing for peace, a guiding spirit for theawaited good days… It can be considered as an archive of the past thirty years of cooperation in arts –especially intheatre- which also gives a voice tothe difficulties facedthrough thistoughperiod of time, on the divided island.
"Although there are two writers, the actors and actresses of this book is a lot more: Theatre artists, musicians, poets, translators and only a few politicians, who follow the route of Aristofanes, wish for peace, refuse to live on a divided island and dream of a united country. But they don't only do with dreaming, they also take action. This is why they are breaching the border…" NiyaziKizilyurek.
Because the book is reflecting real life, it is possible both to laugh and cry while reading the sweet and bitter memmories. Organised common events mentioned in the book, even when the borders were still closed, show us how determined our artists were to reconstruct a common life among peoples of Cyprus.
The book launch event held on 30th of January, organised as a conference panel where there were threespeakers in addition to writers–Niyazi Kizilyurek, Hasan Kahveci, Takis Hadjidemetriou- and Maria Siakalli who was translating the speeches. They shared their feelings, ideas about the book and their memories with the writers. The panel was carried in a very warm environment, where the meaning of arts through close Cyprus history was also discussed from time to time, and some incidents -written in the the book-, were evaluated as cultural revolution.
"The cooperation of Satiriko and Nicosia Municipal Theatre in those days, effected every single field of life, the reflections were being felt. This cooperation went beyond the stages and stepped into the society." Hasan Kahveci
"This cooperation started 30 years ago, and will last till the end of our lives. This is a precious example in today's world, which is sinking into hatred." Kostas Kafkaridis.
There will be another book launch event on 20th of February at Satiriko Theatre building, which shouldn't be missed. The details of the event will be shared. Once for all, I want to say that this book is another gap on the borders. We, as people who want peace, will continue making those gaps on the borders so that more people can breach them till an eternal brotherhood and sisterhood is set aside!
"Our plays will continue to breach the borders. We wrote this book to prevent our children from living through the same heartbreaks, to help them learn from the past and build up a better future on a united island."YasarErsoy
Writer: BasakOnel