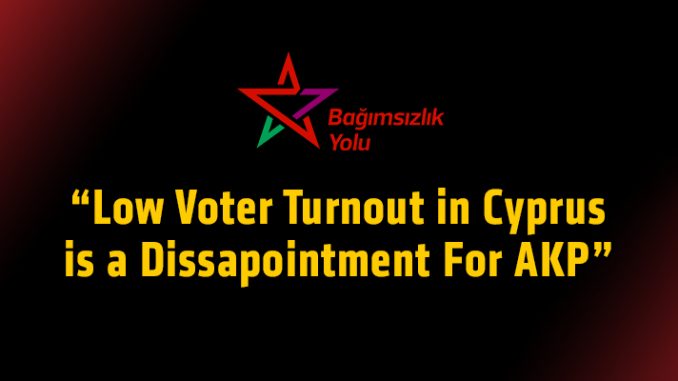 Independence Path issued a statement about the referendum vote for Constitution change in Turkey, for which Turkish citizens in Cyprus had also voted.
Turkish citizens living in Cyprus had the right to vote in Cyprus until the 9th of April, ahead of the voting day in Turkey which is the 16th April.
The statement said, the low turnout, hence indifference, proves wrong the perception that Turkish origin people in Cyprus has a mission of imposing Turkey's agenda and politics on Turkish Cypriots. It went on to say that, regardless of where one comes from, all of us are more concerned with our daily problems and struggles which all occur in Cyprus, and that workers could not be divided based on origin.
The full text of the statement issued by Independence Path is as follows:
Voting is completed in the north of Cyprus for the constitutional referendum. Out of 104 thousand registered voters, only 43 thousand has went to vote; therefore the turnout being 42%. The fact that the turnout has increased compared to previous years is expectable since this is an important issue for the peoples of Turkey and for us. Besides, like all progressive forces we also encouraged people around us who has a right to vote to go to the polls. Despite all, 42% is not a high turnout and it should be analysed correctly.
As Independence Path, we believe that the low turnout proves wrong the perception that Turkish origin people in Cyprus has a mission of imposing Turkey's agenda and politics on Turkish Cypriots. The results are an opportunity to leave aside such prejudices which divide and weaken the labour struggle. The turnout has shown that, regardless of where they come from, everyone struggling to live in this country are concerned about the problems of this country, like healthcare, education, housing, transportation, they go to the same hospital and have to pay to get an xray, they are exploited at the same workplaces. Natural outcome is that we are all concered with the daily agendas of our lives, and that agenda is here, in Cyprus. This is what the numbers show, and what we need to work on. Issues of the working people cannot be divided according to origin, because our struggle is one.
This is more clear when compared to turnout in other countries. It is ironic that the turnover being 50% in Austria, 48% in Germany and Netherlands, and 47% in the overseas average; but 42% in the north of Cyprus, where AKP blatantly performed all kinds of intervention. Moreover, in an unprecedented manner, four daily newspapers surrendered their front pages and headline to AKP, two ministers joint AKP gathering, our collaborator government openly took sides with AKP. Uncontrolled and unregulated election trucks drove around our streets, banners were hanged around public space but no official could intervene. Despite all this, the turnover in our country has been lower than most EU country. And this is unsettling for AKP, as well as breaking tradition for the Turkish Cypriot left. It's a long due duty for the left to start seeing Turkish originating Cypriots not as people who gets mobilised by Turkey whenever they are called, but people with whom we share the same issues and can share the same struggle.
As Independence Path we want to emphasise that politics of Turkey being imported to our streets is wrong in any case. This applies both to opinions we disagree or agree with. However the local collaborators of AKP has dishonourably surrendered our streets, public spaces and schools to the voting process of another country. While in all other examples around the world the voting has taken place in embassies, only in the north of Cyprus the voting had been outside, at a school dedicated for this purpose. Another country's voting should be done at its embassy, we condemn the surrender of our education institutions to the use of the Turkish Embassy.
We wish a "Hayır'lı"* referendum for the peoples of Turkey and renew our warmest solidarity with people resisting dictatorship. Those fighting for independence and freedom cannot walk apart. Resistance will win, we will win.
Independence Path
* "Hayırlı" in Turkish means both "fortunate" and "with a NO".