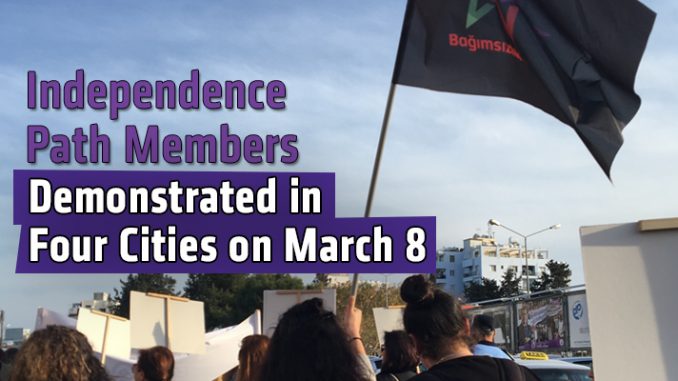 Despite the rotting patriarchal idea that the women's place is their home, women were on the streets of four cities in the north of Cyprus on the International Working Women's Day, marching for their rights.
Independence Path, organised the first 8 March walk of Morphou this year, where a long cortege of activists was attracting notice with their flags, banners and slogans.
Women walking and shouting slogans in Morphou streets with a demand of Women's Asylum, 8 March 2017.

The March 8 spirit in Morphou for the first time in history, 8 March 2017.
Independence Path, also made a call for the people in Kyrenia to crowd the streets on the March 8.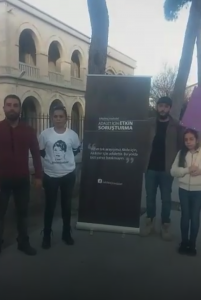 Independence Path activists before reading the press statement in Kyrenia, 8 March 2017.
A common March 8 walk organised in Famagusta. Independence Path was a part of this organisation. A crowded and cheerful cortege was produced. Women were singing songs and shouting slogans like "Women, labour, freedom" and "Long live March 8, long live common struggle".
Independence Path was a component of "March 8 Organisators" who organised a common march in Famagusta, 8 March 2017.

Activists singing and shouting out slogans on a roundabout in Famagusta, 8 March 2017.
Despite the groups who are trying to dominate March 8; despite those who think that they are the feminist monopoly of the north, Independence Path was also on the streets of Nicosia.
Members of Independence Path carrying a banner protesting the groups who want to dominate the March 8 and trying to exclude all others who doesn't think like them, "The March 8 Organisation Committee is living in Our Heart", 8 March 2017.
International Working Women's Day marches had been organised by  "March 8 Organisation Commitee" for years. Last year the commitee was cancelled unilaterally by a group who later announced that the marches will be organised by the new platform they established and the organisations outside of this platform can not be organisators, they can only be supporters.