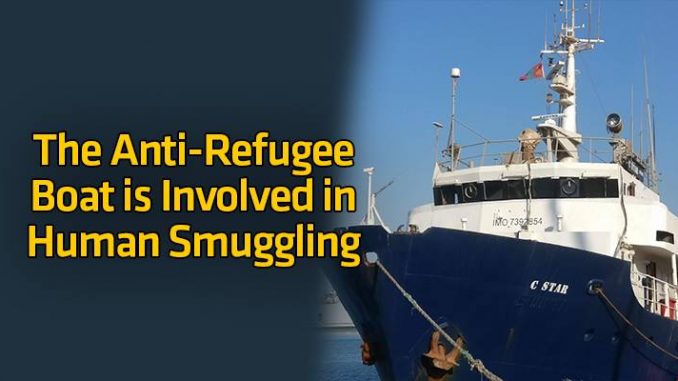 Far-right Group Defend Europe's Ship Called "C-Star" which has a declared aim to confront refugee rescue boats has been anchored in the Famagusta port since yesterday.
The ship -brought into attention via our special news- has included, apart from 9 crew members, 20 Sri Lankan Tamils.
Customs and Immigrations officials who investigated the boat were informed that these 20 people were research interns, and that they wanted to get off the ship to go back to their country from Ercan airport.
The Refugee Rights Association (RRA) and SOS have been to the port after being informed about these people wanting to go back to their country.In the evening the 20 people have been taken to the airport escorted by the police.
Thomas Egerstrom At The Ercan Airport
Thomas Egerstrom, who owns the Maritime Private Security Group and has been named in various sources as arms dealer, armed group leader and sponsor, was at the airport last night, paying the plane tickets for the 20 Sri Lankans.
However, some of the Sri Lankan peoplehave reached the RRA late last night and conveyed their wish to claim asylum. This has prompted the association to go to the airport.
They Took Money From the Asylum Seekers
The people who claimed asylum have told the association's representative that they have all paid huge sums of money to be taken to Italy with the ship.
Police Finally Intervened
The RRA representatives were able to go to the police with 5 of the people who claimed asylum and gave information.According to the information we obtained through Customs officials, the asylum seekers are now being interrogated.
Our previous article on the far-right ship entering the Famagusta port: http://www.ankaradegillefkosa.org/far-right-group-defend-europes-ship-called-c-star-is-now-entering-the-famagusta-port/