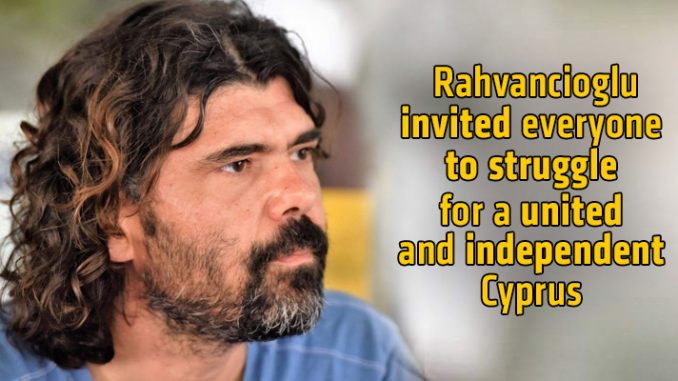 General Secretary of the Independence Path; Munur Rahvancioglu evaluated the post-Cyprus-talks atmosphere and invited everyone to struggle for a united and independent Cyprus.
Rahvancioglu's statement from his facebook account is as follow:
"It is customary that we don't pout to someone else's happiness, hope, or sorrow… If possible, we would empathise with it, or form ties of affection… However, what can be said or done to someone who deliberately hits the same wall, over and over again?
There is something wrong with this Cyprus equation. You know, when they say that "the country's problems will be solved by the peace", well, not so like that… When it is equated in a wrong way, it's not surprising that everything goes wrong…
Traffic murders, occupational murders, femicide, religious reactionism, forest fires, stone quarries, polluted seas, paid beach entrance, and the exploitation within the private sector… The list can be extended. As long as the peace is expected to be a solution for the list above, it will always end with a frustration, with a disappointment…
If the effort of saying that "Yes, it will happen this time!" would have been spent on the struggle, the opposition, and getting organised against the ones who have created these problems instead, we would have been in a totally different state of soul…
That is to say, it seems like the sorrow that is felt for the two old men fail to agree, was not felt when the forests were burning fiercely…
The political parties, the press, funded NGOs have moved to Switzerland for weeks. They updated us with every single nonsense they could, so that they would be consistently remain on the agenda: "Anastasiadis sat at the table, Akinci's tie is skewed, there is dust on the UN General Secretary's trousers…" Is this a struggle for peace?
The real problems cannot be and will not be solved with an intangible peace struggle… The path to real peace will be furnished by a real resistance around real people's real problems…
I reverence in front of the sadness that is being felt. However, when your mourning is over, I suggest you to think. Unionisation within the private sector, women's shelter, free and good quality education-health services, opposition against religious reactionism, road and traffic safety, fire helicopter, free beaches… Something is wrong with the accession to these targets. Shall we try reaching the peace by being organised around these targets?
No, there will not be a massive media coverage for these. And no, no one will fund these struggles. You cannot take a ride around Switzerland, Brussels, either. But the chances of leaving a united and independent Cyprus to our children is high… Isn't it worth trying?
#thereisanotherway
#organiseyoursorrow
#IndependencePath